Champagne Education
Callie was color tested by UC Davis as well as Pet DNA of Arizona. She has a heterozygous black base and the champagne gene so she is Classic Champagne. She was also part of the study at the University of Kentucky and has her Certificate to prove she is Champagne. There are a lot of breeders who try to pass their horses off as Champagne but now that there is a test, you can be assured that our Champagnes are tested and verified.
Newborn Tessa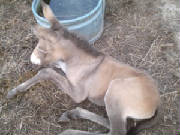 Tessa as a newborn foal
This page has more photo's simply because there is so much more to the champagne color. There are certain characteristics and some of these are illustrated here. If you have a horse, mule or miniature that you feel may be champagne, send me an email with a pedigree and photo's and I'll try to help. As you can see, this color can change with the seasons as well as appear totally different in different lighting. Callie's base color is black and Tessa's base color is bay.

The University of Kentucky used all 4 of our champagnes in their study to discover the genetics for the champagne color.
Tragedy struck us when we sent Tessa to a trainer to start her under saddle. Because the Humane Society State Investigators did not show up for 3 weeks after being notified by our local Sheriff's department and several calls for help from me, there was not sufficient evidence collected to charge the trainer. She was humanely euthanized at the University of Missouri Veterinary Hospital as a result of the injuries she sustained at the hands of these "so-called trainers".
Tessa blue eyes at birth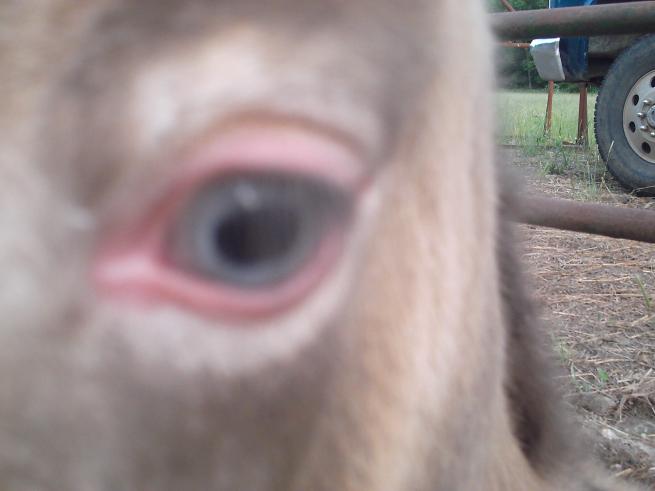 Please be sure to visit the ICHR website for more information about the champagne genetics and visit Tessa and TJ's page for more photo's
Tessa's eye at 3 months, green/hazel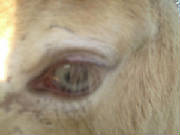 Tessa's eye at 20 months - Amber